Advocate Usman Gondal
Advocate Ali Yousaf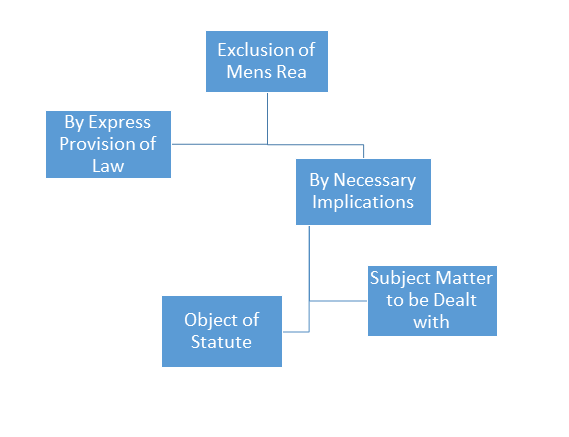 General Rule is that Mens Rea apply to all sort of crimes. Whereas, exception have been made for the welfare of public, named as Strict or Absolute liability. The age old Latin phrase epitomizes this concept, "actus non facit reum nisi mens sit rea", which means that the act does not make a person guilty unless the mind be also guilty [1]. Whereas, Jerome Hall mechanized such offences related to laws of economics and administration.
Actus reus is the actual act of committing some offence, where mens rea is the intent to commit the said offence. If either of the elements is missing, the conduct would not attract a penal provision unless it is a case of strict liability
[1]  2011 SCMR 1966
Crimes not requiring legal fault can be divided in three categories [2];
Public Nuisance
Libel
Contempt of Court
Acts not criminal, but are of quasi-criminal nature and are prohibited in public interest.
i.e Public welfare offences, social and economic offences, foods and drugs, weight and measures, licencing, road traffic, revenue offences.
Although the crimes in 3rd category are criminal but it is mod of enforcing civil rights.
i.e Violation of municipal laws and regulations
Supreme Court of India[3] distinguished the type of damages awarded under private law (civil action) and damages awarded in proceedings before Supreme Court or High Court in constitutional jurisdiction, for an infringement rights of protection of life and security of a person. The type of damages being awarded under constitutional petitions are regarded as 'exemplary damages', which are awarded for the breach of public law duty and was independent of the rights available to the aggrieved party to claim compensation under private law in an action based on tort. Thus, such damages are based on the principles of strict liability for enforcement and protection of fundamental rights, distinct from the remedy in private law for damages for the tort
Courts have strictly applied the principle of absolute liability for the general welfare of the public, regardless of the knowledge of wrongdoer. The minimum requirement of culpability, in cases of strict or absolute liability can be determined through an American case (United States vs Freed), where a defendant indicted to possessing and conspiring unregistered hand grenades. District court dismissed the case because of the absence of intent or knowledge. However, SC held that the act of possessing hand grenades is itself is not an innocent act. The only knowledge required was that it was a firearm [4].
Major developments have been made in sub-continent to protect the interest of public at large getting effected from numerous chemical emissions. As per Oleum Gas Leakage Case [5] (M.C Mehta vs Union of India), where the plant of manufacturing caustic soda, chlorine, bleaching powder, soap was situated in urban area surrounded by populated colonies. A major leakage of oleum gas took place from the plant which affected a large number of persons residing around the plant.
[1] Crime and criminology By Shri Arun Jaitly
[1] AIR 1993 SC 1960
[1] United States vs Freed (1971)
The main question before the court was, whether an enterprise which is engaged in hazardous or inherently dangerous industry owes a duty to community to ensure that no harm results to any one or not. If yes, then what would be the standard of proof in such situation.
Court held that in such cases, highest standard of safety would be required, and in case if any harm results from such activity, the enterprise must be absolutely liable to compensate such harm. It will be no defense that it had taken all reasonable care without negligence on its part. Court further held that the well-established law in Ryland vs Fletcher has no implications in India. Whereas, damages would be awarded according to the capacity and magnitude of enterprise.
So far Pakistan or Sub-continent is concerned it never adhered to the concepts of the common law and has never been a common law country. This part of the world has been governed by the laws, rather than conventions and practices. It would be against the concept of sovereignty of a State, if any attempt is made to apply legislative enactments of one country to the territory of another country.  This part of the land was governed by the Crown through the Secretary of the State for India and not through the British Parliament. They separately enacted statutory laws for Indian Sub-continent and kept the system of law in this Sub-continent so distinct and separate from the system of the law prevailing in England and the House of Lords. Thus, the concepts of the common law of the England and the English judgments are not applicable to Pakistan [6].
However, for the purpose of interpretation of the laws, some concepts of the common law of England are usually being employed. By now it is the accepted principle of interpretation of laws in food laws, traffic laws and all cases of strict liabilities and welfare legislation (Zaheer Ahmed Chaudhry vs City District Government Karachi).
[1] AIR 1987 SC 965 (M.C Mehta vs Union of India)
[1] 2006 Y L R 2537
The courts have long puzzled over the question of how to determine whether an offence is of strict liability. In general, the authorities on strict liability are so conflicting that it is impossible to adopt a universal principle on when this form of liability arises and when it does not [7]. In case of Brend v: Wood (1946) it was held that unless a statute, neither clearly or by necessary implication, rules out mens rea as a constituent part of a crime the Court should not find a man guilty of an offence against the criminal law unless he has a guilty mind [8].
Thus one must look at the actual words of the section of the Act which create the offence in order to extract the intention of it. That may include words, such as maliciously, fraudulently, negligently, knowingly or recklessly. The mere fact that such words do not appear does not necessarily exclude mens rea [9].
Another aspect of the relief provided in strict liability is the argument that due process was not followed. In case of Muhammad Ayaz V/S GOP (2017 C L D 772), environmental protection agency ordered for the sealing of the plant of the petitioner, causing air pollution, noise pollution and vibrations. Petitioner in constitutional petition argued that no hearing was given prior to sealing the plant, which is in violation of Article 10A of the Constitution of Islamic Republic of Pakistan, 1973. Court held that, in cases of strict liability, where damage to the environment is irreversible, permanent and immediate action is required, in such cases it is necessary to take precautionary measures, which do infringe the right to fair trial or due process, but simply ensure that a harm or damage does not continue during the time spent in due process [10].
The space for exception in cases of strict liability offences is very limited and courts are not very keen to relax the implication of strict liability provisions. However, in United States the rule of "Ignorantia juris non excusat", means that "ignorance of law excuses no one", have inversely been applied in a defense to strict liability offences, creating a very limited exception.
In case of Lambert vs California, in which Los Angeles authority made it a crime to remain in Los Angeles for more than 5 days without registration, if a person has been convicted of felony ever. Whereas, being in Los Angeles wasn't a crime, but not registering institutes liability. Where court held that in case if a person did not know the duty to register, and where there has no proof of the probability of such knowledge, he may not be convicted of that with due process. Otherwise, evil would be as great as it is when law is too fine to read or in a language foreign to the community.
[1] (2012) Glanville William's textbook of Criminal Law (pg. 1278)
[1] Brend v: Wood (1946) 62 TLR 462
[1] Harris's Criminal Law (22nd Edition), (page 42)
[1] 2017 C L D 772
In another case of Cheek v. United States [11], the defendant stopped filing Federal income tax returns. He was eventually charged with willfully failing to file Federal income tax returns for number of years. He was also charged with the offences of tax evasion. D argued that he had begun attending seminars regarding the Federal income tax system being unconstitutional. On the basis of seminars and his own study, he sincerely believed that the tax laws were being unconstitutionally enforced, and that his actions were lawful. Defendant specifically testified about his own interpretations of the U.S. Constitution.
That he had relied on those materials in concluding that he was not required to file tax returns, and still he could claim refunds of the money withheld from his pay. Court held that under U.S criminal tax law, the element of willfulness required by the provisions of the Internal Revenue Code requires a voluntary and intentional violation of a known legal duty. In which an actual good faith belief based on a misunderstanding caused by the complexity of the tax law is a valid legal defense.
In contrast, the offences lacking the requirement of mens rea, are usually designed to tackle the situations where the general public would be exposed to the situations causing greater damage to society at large. Where in some situations, the implication of strict liability inflicts the harm on lesser evil of society while protecting the greater evil, which impacts negatively and the person bear the cost without fault on his part. The approach to implement such provisions is so limited, that no room for exceptions exist so far under Pakistani Law governed under statutory rules.
[1] Cheek v. United States (1991)